A nice cup of coffee on your desk is one of the best ways to start the day. Recent survey revealed that 89% of employees say that a good cup of coffee can improve their entire workday. It is the one thing they need for a happy and productive work environment. As a business owner, we highly recommend that you invest on the best commercial coffee machines to keep your employees happily caffeinated.
Science has proven it. Caffeine has loads of effect on productivity. Often, people reach for a cup of coffee when they need a bit of energy boost. It helps increase energy, keeps mental alertness, and fights off sluggishness at work, which leads to increased productivity. Your employees need coffee, and they need it fast. With the best commercial coffee machines in your office, your employees will no longer have to go out of the office for a quick caffeine fix. Plus, you can show your people that you care about them.
If you are considering getting a coffee machine for your small business office, then you came to the right place. Whether you're looking for a budget-friendly pick or a programmable coffee maker, you'll find the best commercial coffee machines to keep up with the caffeine demand throughout the workday.
Bunn VPR-APS Pourover Airpot Coffee Brewer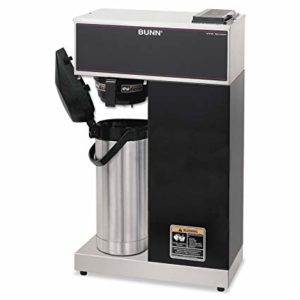 Image Source: https://www.amazon.com
Price: $350
The Bunn VPR-APS is a simple coffee machine. It doesn't have any fancy features, but it is a beast of a coffee machine that is capable of producing up to 3.8 gallons of perfect coffee per hour. In fact, it can pump out enough coffee to keep up with the demand of your entire office all day, every day.
This coffee machine is completely portable and requires no plumbing. It can be used anywhere there is a plug. The Bun VPR-APS is one of the best options for break rooms, cafes, and other food service establishments.
Mr. Coffee Café Barista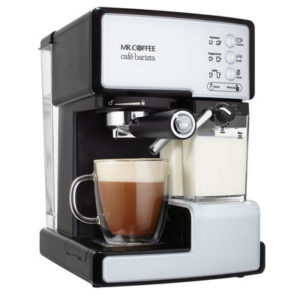 Image Source: https://www.amazon.com
Price: $199
People have different preferences when it comes to coffee. Some prefer espresso while others prefer cappuccino. These fancy beverages are labor-intensive. This is why most people choose to visit the local java joint.
Mr. Coffee's Café Barista has 15-bar electric pump that is capable of producing café style drinks like lattes, cappuccinos, and espressos. It automates much of the process. That means, you can have your preferred drink at a push of a button. It automatically froths and pours steamed milk into your beverage.
Overall, it's a great budget espresso machine that can cater to the demands of both your employees and clients. With such a reliable coffee machine in your office, there won't be a need for coffee runs.
Hamilton Beach 49980A 2-Way Coffee Maker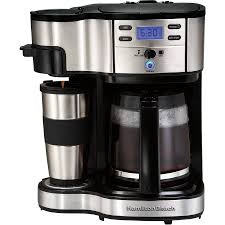 Image Source: https://janeskitchenmiracles.com
Price: $60
For the office, you need a low maintenance coffee maker that can cater to the needs of your employees fast. Afterall, no one has the time to grind coffee, froth milk, and then wait for the brewing process to be done. They need coffee and they need it fast. This is where the Hamilton Beach 2-Way Coffee Maker comes in handy.
This coffee maker can brew a basic or a premium roast coffee in a jiffy. Plus, it makes a full 12-cup pot. It can keep up with the caffeine demand in your office. If you want gourmet coffee, you can use the single-serve side to make your own brew. You can insert a soft pod in the pod holder or add roast brand, premium or decaf coffee grinds directly into the mesh filter. Whichever way you decide to brew, you can with this coffee machine.
Keurig K575 Single Serve K-Cup Pod
Image Source: https://www.amazon.com
Price: $153
If you only have a few employees but they have different coffee preferences, this coffee maker may be more in line with your needs.
As compared to the other Keurig models, the 575 offers the most brew size options. With this coffee machine, you can brew a range of beverage sizes. Simply touch the arrow keys and you'll be able to adjust the size to suit your needs. You can even brew an entire carafe of coffee, hot cocoa, tea or specialty beverages to accommodate the coffee demand in the office. It also has a color touch display with a digital clock that can be programmed to turn on and off automatically. Overall, it is a top-of-the-line brewer that is designed to brew top-of-the-line coffee.
Cuisinart 14-Cup Programable Coffee Maker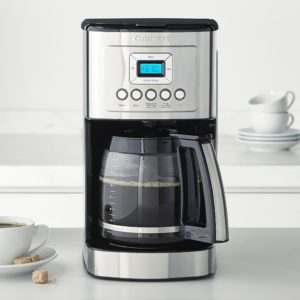 Image Source: https://www.williams-sonoma.com
Price: $100
If you are looking for the best commercial coffee machines with more advanced features and can handle a larger volume, you may want to consider this Cuisinart model.
With its cutting-edge coffee technology, you can set the warming plate temperature and adjust various elements of making coffee. You can turn up the temperature and flavor of your coffee, so you can make just the right brew to suit your taste. Plus, it comes with a 14-cup glass carafe, which is perfect big groups. You also have the option to make a single to a few cups if you don't need a lot of coffee. All you have to do is to press 1 to 4-cup button.
Tips for choosing the best commercial coffee machines
A reliable coffee machine should be a staple in every office. But with a wide variety of coffee makers in the market, shopping for one can be daunting.
Beyond the price and machine quality, you need to make sure the coffee machine can meet your office's need, volume-wise. That said, one of the most important things to consider is how many people in your office drink coffee. Also, some people drink more than one cup of coffee a day, so you need to take that into account. Ease of use is also worth considering since most folks around the office aren't trained baristas.