Coffee holds a special place in our hearts. Most people would drink a few cups of coffee a day as it helps power them throughout the day. Others would even have coffee after meals. Coffee dessert will not only satisfy your sweet cravings, it will also brighten up your day.
There is something about having a shot of coffee at the end of a meal that makes you feel satisfied. If you're a coffee lover, you'll definitely love what happens when you add java to your dessert.
These delicious coffee desserts will give you a caffeine buzz.
Chocolate eclairs with coffee cream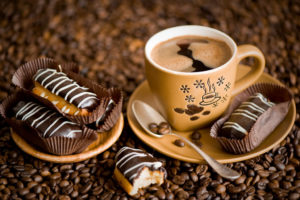 Image Source: https://www.flickr.com 
My family love eclairs and request them all the time. They are easy to make and are not too sweet.
This coffee cream eclairs are a combination of crisp puff pastry filled with coffee-flavored cream and topped with sweet glaze. It is a delectable coffee dessert that everyone will love. Perfect to be enjoyed with a cup of coffee.
Get the recipe here.
Tiramisu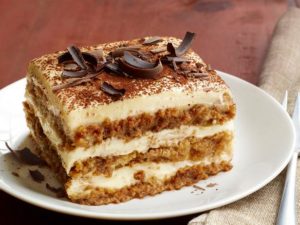 Image Source: https://www.foodnetwork.com 
Tiramisu is one of my favorite desserts to have after dinner. This classic recipe is rich, fluffy, and heavenly. With great coffee flavor, it is absolutely irresistible. This coffee dessert is not only delicious, it is also great for parties. It will be the perfect ending to any meal.
Get the recipe for Tiramisu here.
Fudgy coffee brownies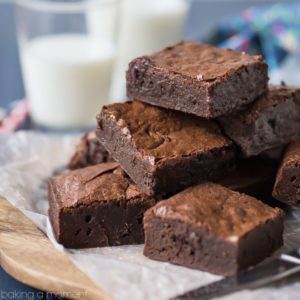 Image Source: https://bakingamoment.com 
Coffee and chocolate are a natural pair. Add a decadent twist to traditional brownies with the simple addition of coffee. These deliciously dense brownies have a kick of espresso that complements the rich, deep chocolate taste of brownies. It is the perfect afternoon pick-me-up you've been looking for.
Get the recipe here.
Mocha cupcakes with Kahlua buttercream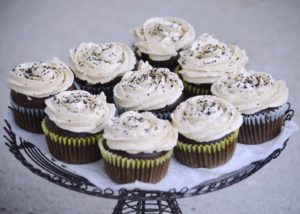 Image Source: http://www.obsessivecooking.com 
These cappuccino-flavored cupcakes may not be appropriate for the school bake sale, but they would be a great dessert option for when your friends come over. Bake them, and they are sure to be a crowd pleaser.
Get the recipe here.
Coffee S
'mores Pie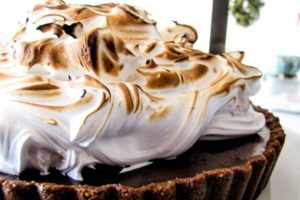 Image Source: https://sweetandsavary.com 
This sophisticated mash-up of the campfire classic uses Nutella to bind the graham cracker crust. Infusing heavy cream with coffee makes for a very powerful chocolate ganache. With added coffee, they're a treat for dinner parties.
Get the recipe here.
Chocolate cappuccino cheesecake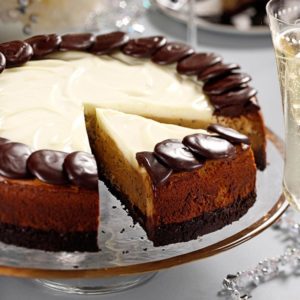 Image Source: https://www.thriftyfoods.com 
Take your cheesecake game to the next level with this espresso-spiked cheesecake. This luscious coffee dessert will surely leave your family and guests on a high. Plus, it will make for a magnificent centerpiece to any gathering.
Get the recipe here.
Mocha truffles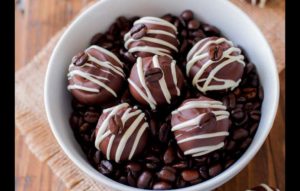 Image Source: www.ediblecommunities.com  
This sweet treat is a coffee lover's dream dessert. Truffles are delicious and easy to prepare. Be sure to make a huge batch. They are so good, they'll be quickly devoured by your family and friends.
Dip the truffles in white or dark chocolate for a sophisticated finish. Feel free to adjust the amount of coffee to suit your taste.
Get the recipe here.
Sugar-free coffee ricotta mousse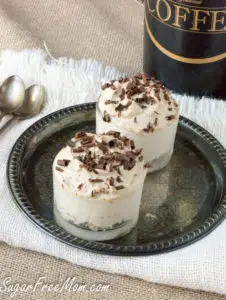 Image Source: https://www.sugarfreemom.com 
There is nothing more satisfying than making your own coffee dessert. If you're looking for a fancy dessert that's super easy to make, try coffee ricotta mousse.
A variation on the classic chocolate ricotta mousse, this dessert is flavored with espresso and topped with a dusting of chocolate.
Get the recipe here.
Coffee cream bars
 
Image Source: https://www.macheesmo.com 
Coffee cream bars are not just for dessert. They also make for a great snack to perk up your afternoon. This coffee dessert has a dark chocolate base and topped with a layer of coffee cream. They are so good, they'll be your most favorite dessert ever. Be sure to make some extra because these bars won't last long.
Get the recipe here.
Iced coffee milkshake
Image Source: https://www.jennifermeyering.com
Coffee is a part of our daily lives. But on the hottest days of the year, drinking a cup of piping hot coffee may not seem like a good idea. A glass of thick, caffeine-packed milkshake makes a lazy summer day even better.
Get the recipe here.
Double chocolate espresso cookies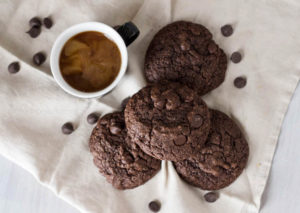 Image Source: https://www.teatimebaker.com  
Cookies are everyone's favorite. Just hearing the words double chocolate is enough to make your mouth water.
This coffee dessert is crisp on the edges and have a chewy middle strewn with pockets of soft chocolate. Since these cookies contain coffee, make sure not to give them to your little ones before bedtime.
Get the recipe here.
Mocha chia pudding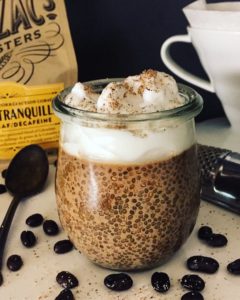 Image Source: https://www.thelemonapron.com 
Do you love coffee and chocolate, but want a nutritious breakfast? If so, then this one is for you. Use this recipe to create a fabulous new take on breakfast.
Get the recipe here.